In this, we hope beautiful, day, you want make animation online? We glad let you our powerful online tool to make animation online. It's very easy. Enjoy it. This short "how to" help you make animations online in fast and very easy way...
How to make your own animated cartoon and what is necessary? Make a cartoon is very easy, and you do not need anything particularly special for this. All what you need you able to do online and for free. No need to download and install a program, send SMS, or perform other strange behavior. Complete few simple actions to download your new cartoon.
Make animation start: Upload
Prepare photos, pictures or other images. For upload use any file format, like jpeg, jpg, gif, bmp, png and other.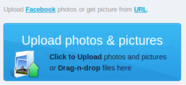 You can drag and drop them to upload button or select files manually, just click upload button and use simple file upload dialog.
Also you can import files from Facebook or upload files from direct link. Just click link what you need located above upload and make button.
Upload starts immediately.
Make animation middle: Edit
Now, you are reached the main step of making animation. On this step you available improve your animation. You can edit it: add text on pictures, draw your own picture or change animation frames order. To start editing double click on uploaded image.
After second you get editor dialog. Don't worry, it is very simple and provide typical image editor function: draw, add text and eraser.
Make animation finish: View animation
Now, it's time to click "Make animation" button. After click wait a bit and you get your animation. Don't forgot click google, facebook and other share buttons, it really help our site! You can download it or publish your animation in out animations gallery to discuss it with other users. We glad to get any animation, but remember that you cannot publish or any other share adult, porn, erotic or other usually prohibited content.
Make animation: P.S.
If you have any problem, please, describe it in the feedback form, it help us fix problem and make our animation service better. And, please, leave your email, it's only the one way to communicate with you.
Also, if you want, see our videos how to below.
Thank you, our friend!
Make animation HOW TO from Happy Man on Vimeo.
This short how to help you make animation online fast and easy
5
-
Staff
!